Hear the Organ! Excerpt of Albert Renaud Toccata in D Minor, played by Martin Setchell
When Christchurch opened its new Town Hall complex in 1972, it was the only city of the four main New Zealand centres (Auckland, Wellington, Christchurch and Dunedin) to boast a modern 2500 seater concert hall. But the downside of this achievement was the absence of a pipe organ, plans for which were axed when building costs escalated beyond budget. For a quarter of a century the city had no civic organ. But in 1997, after a sustained fund raising campaign, not without its own setbacks and disappointments, the hall was eventually 'completed' by the installation of a fine pipe organ by Rieger Orgelbau of Austria.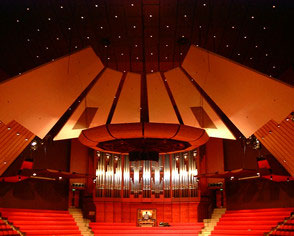 Over the last four years since its installation, the sustained, successful profile of the organ here has become something of phenomenon both locally, nationally and increasingly internationally. People often ask me to explain why and how this has happened. The honest truth is I'm not sure, but I guess it reflects a whole number of factors, not least civic pride (the people virtually gave the city its organ) and feast succeeding famine. But four years is too long a time to write off as a mere honeymoon period! (A preview of the first year can be read at www.nzorgan.com/birthday/birthday.htm)
When I was appointed curator one of the tasks in my job specification was to 'actively promote the organ'. I found the fact that I was starting from scratch was both a positive and a negative; there was no tradition set in place, no established practice to graft on to, but on the other hand there was a clean sheet with which to start. So we had the element of surprise and innovation. I was conscious from the start that after the surge of interest which surrounds every new organ and its inaugural activities, there's only one way its popularity can go, and that's downwards, unless you constantly keep its profile high. I don't have any panacea answers, but I do know that hard, sustained work is essential.
Phantom Dinner
As curator you represent the human face of the instrument, and you can either be the path or the barrier to the instrument and its success. Let's face it, organists have sometimes been their own worst enemies in keeping consoles locked, not always being welcoming or hospitable, and somehow encapsulating the mystery and inaccessibility of the King of Instruments with a kind of misplaced 'royal reserve'. I decided I'd consciously go as far as possible the other way. I can get as frustrated as the next organist when a party of tourists wander in and start talking just as you are desperately rehearsing with inadequate time for tomorrow's concert, but I decided to use every such interruption as a marketing opportunity, take the chance to welcome the visitors, play them a special little piece, tell them about the organ and the concert. I've answered countless enquires about the organ by letter and phone call in a personable and friendly way however awkward the timing. I've tried to accommodate every request to speak to groups, have groups visit the organ at close quarters, show visitors both organist and non-organists the instrument and so on. In my experience the personal touch has really worked. I guess if people like me, by a process of transference there's a good chance they'll fall for the organ also.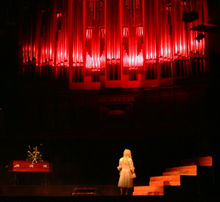 Setchell as Bach
This extends to the presentation of my solo concerts in which I always speak to the audience, taking them with me to the console. Not that I dislike programme notes, but I'm conscious that for most of the time the audience is going to have nothing more than my back to look at. That's certainly an improvement on the invisibility of the organ loft, but still low in the communication stakes. So I talk to the audience to pull back the communication balance a little, as well as to break down the impersonality of a recital, and any mystique about the repertoire. Humour is undoubtedly one of my chief weapons. Without cheapening the whole show, I think a little bit of laughing at yourself, the quirks of composer's lives or the instrument's complexities and potential for disaster can help a lot. When I play, the audience is taken close by cameras (one for the hands, one for the feet) which project the image onto large screens mounted either side of the case. This helps remove the distance factor. There is still something of the circus act in an organ performer, and people are as fascinated by physical machinations, whether it's of a skilled organist, sportsman or airline pilot in action. They feel they are getting in on the act, being taken behind the scenes as it were.
Of course the whole question of repertoire is a key factor. We have to face the fact that with the exception of Bach and possibly Franck, Mendelssohn and Messiaen, organ composers are not familiar to the general Classical listening public. That doesn't mean to say that all their music is unpalatable to an audience, just that marketing based on the composer's name and maybe the piece's title doesn't always work. As someone remarked recently 'On the one hand we complain that people aren't interested in organ anymore, and on the other we don't seem to want to play the pieces they love'. I believe you have to constantly find touchstones, points of reference which will identify with the listening experience of the majority. Obviously we have to 'borrow' repertoire from other media and provided it's suitable, not be ashamed of using transcriptions. Bach certainly wasn't, and look at the audiences Lemare, Best and co pulled in. Establishing 'extra-musical' connections is always useful. My latest CD "Bonbons for organ" features a group of programmatic pieces entitled 'Creatures Great and Small' and finishes with Korsakov's 'Flight of the Bumble Bee'. People may not recognise by title Gounod's 'Funeral march of a Marionette' but they all know Alfred Hitchcock's TV theme. Once your audience learns to trust you not to bore, patronise or overface them, you can gradually start raising the levels and introducing them more and more to traditional organ fare.


Organ Poster
Essential to this public profile was of course a purpose designed website, and I was fortunate that my wife Jenny is not only an organist herself, but a website designer. The organ website www.nzorgan.com, began life with the organ, initially as part of a school's webpage supported by the local daily newspaper. Daily photos of the process of installation were put up with videos, sound files and short, basic explanations of what was happening. Thousands of people followed the "birthing" process from Iceland to Tasmania, South Africa to Toronto. At the opening concerts, video clips of the action were included, especially those taken during the schools concerts attended by 4500 children over two days. Today the site exists as a storehouse of historical photos of the building, information about events involving the organ in any way, crossword competitions, jigsaw puzzles of organs, news, selling the two CDs made on the instrument, organ posters , a guestbook, organ links, organists' association news, links to New Zealand sites for tourists, and soon, even a page selling t-shirts of the organ.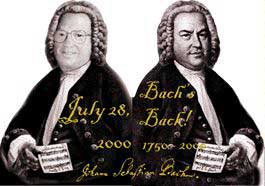 "Bach's Back" die-cut program
Inventive marketing whenever there is a chance is hard slog, but it's worth it. At the release concert for "Bonbons for Organ" we bought 10kg of bonbon sweets and offered them to the startled but delighted audience; before major events we print envelopes at home with dates and basic info in colour on the front; selling tickets as "three for the price of two" encourages people to bring a friend; spreading advertising throughout the media, not just newspapers. Anything that helps people remember, and lifts their association of the organ out of the commonplace, helps fix it in their mind. Even concert programs and notes can stand out in this way, like this for the Bach's Back concert, which was die-cut into Bach's profile enclosing the whimsical pair on the cover!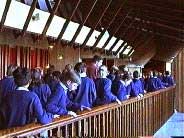 Children at the organ
Schools in the Auditorium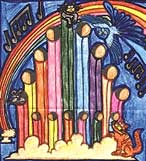 Winning Entry
I regard the schools concerts I've given as perhaps the most important investment in audience potential growth. Of course there was a certain amount of 'mass hysteria', the usual sort of thing when 2500 kids get an hour out of school, but the organ experience at a tender age could be the essential seed planting for the future. I got a well-known kids TV presenter to help me. He was hidden in the case (with ear-muffs) before the kids were admitted, and only appeared from inside the case after the end of the Widor Toccata. The kids loved it. They had the chance to sing to the big theme of the Saint-Saens symphony and clap to the Radetzky march. They learnt a bit about how the instrument works and how it is played, and I got a young organist of their own age to play a piece with me. The daily newspaper ran a colouring-in competition for very young children and also ran a picture of the winner with her prize (one of my organ CDs). Now these concerts are part of local schools' calendars – but don't appear to have lost their appeal.
I've had to be prepared to be a bit of an actor as well as a player. Last year on the 250th anniversary of Bach's death, I presented 'Bach's Back' – see www.nzorgan.com/events/bachsback.html . This was a show (sponsored by a prominent firm of undertakers!) in which Bach (alias me) was re-incarnated for the day in full 18th century costume, and appeared out of the mists of time. Sure it took a producer, some lighting effects, some dry ice, and some script writing, but it put the organ and its best music right up there in the commercial world. The lunchtime performance was tailored for kids, and the evening a full length concert.
I've had to be proactive in creating organ opportunities, by suggesting the organ in ensemble with choirs, brass bands, singers, orchestras, and as a surprise element in conferences and other ceremonies. Some of the more zany have involved me playing for silent movies, and appearing as the phantom of the Opera organist! The most gratifying experience is when people come to my dressing room afterwards and tell me they came because they love choirs, or orchestras, or brass or whatever else is performing, but actually fell in love with the organ, and ask when the next organ concert is. That's conversion!
The best back-handed compliment I've received was from an American lady who breezed up after a concert and said 'I wanted you to know I used to like organ music just about as much as root canal surgery, but not any more!' If we can provide more people with that kind of change of heart, the organ in the 21st century will still be the King. If we can't, we risk it becoming the Dinosaur.
– Martin Setchell   www.nzorgan.com