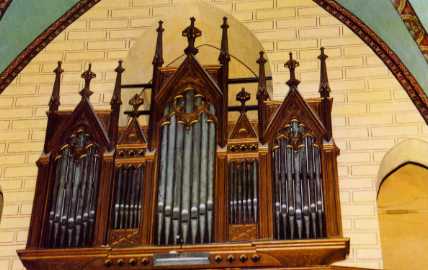 The historic Voit organ
One does not usually hear the name of this beautiful Balkan country together with the name of the king of instruments. It will perhaps come as a surprise to some to learn that Bulgaria has not only organs and organists, but also many people who write music for organ. Bulgaria's official religion is Orthodox Christianity, and for five centuries, until the 19th century, it was a province of the Ottoman Empire. These factors tend to have perhaps had a negative effect on the development of an organ culture. However, in the late 19th century, there was a project to build an organ in one of the Catholic churches in the city of Rousse, a small town on the river Danube, in North Bulgaria. After completing the church in 1892, three different firms submitted their projects for a new organ: E. F. Walcker – for a two-manual/pedal organ with 12 stops, Gebr. Rieger, who suggested a one-manual/pedal, and H. Voit (Karlsruhe) who proposed a two-manual/pedal organ with 13 stops. The last offer was accepted. The organ was completed in 1907 and installed one year later in 1908. The dedication recital was played by the Bucharest organist Emanuel Pol, who played works by Matioli, Guilmant, Bordese and Dubois, as well as many of his own compositions. Currently, this organ is the only pipe organ in a church in the entire state of Bulgaria; it is the only historical German Romantic organ in existence there.
Disposition of the organ in the Church St. Paul on the Cross:
I. Manual
Bordun 16′
Prinzipal 8′
Viola di Gamba 8′
Flauta Amabile 8′
Oktave 4′
Cornett 3 fach II.
Manual Geigenprinzipal 8′
Salicional 8′
Vox coelestis 8′
Lieblich Gedackt 8′
Rohrflote 4′
Pedal
Subbass 16′
Zartbass 16′
Couplers II/I, I/Pedal, II/Pedal,
Sub II/I, Super I One (Tutti)
piston hand stops on/off,
walze (rollschweller)
Manual II enclosed.
Sadly, this wonderful historical instrument is today in very poor condition and has been rendered unplayable due to neglect. The firm that built it is no longer in existence. There is an ongoing fundraising campaign for the organ's restoration and maintenance. There are also plans for establishing concert series' programs and recordings on this beautiful instrument. For those interested in aiding in this historic restoration, please contact one of the following locations:
For donations:
Austrian Bank Account
Salzburg account number: 05401256445
Bank: Salzburger Sparkasse
Bank code: 20404
on the bank order please write: Spende Restaurierung Russe
Bulgarian Bank Account:
Central Cooperative Bank Rousse
Account Number: 5000699812
Bank code: 79077934
on the bank order please write: Nicopol Catholic Eparchy
or for more information contact:
Mr. Sabin Levi
1625 Ellis Drive #100
Lawrence KS 66044
phone/fax: 785 812 3323
email: sabin@ku.edu
For more information on organs and organists in Bulgaria:
Organs in Bulgaria