July 2005
P R E S S R E L E A S E

 

Iveta Apkalna, concert organist from Riga/Latvia has just been awarded with one of the most prestigious prizes for classical music in Europe and the world, the Germany-based "ECHO-Klassik".Iveta Apkalna is receiving the award in the category "Instrumentalist of the Year" together with a.o. Anne Sophie Mutter (violin) and Helene Grimaud (piano).Since its foundation in 1994 the "ECHO-Klassik, Instrumentalist of the Year" had never gone to an organist.Iveta, who was as a 16-year-old officially nominated organist during pope John Paul II's visit to Latvia in 1993 and accompanied the Pope's mass in Anglona is nowadays trying to free the organ from being considered a church instrument only. She is striving for a renaissance of the "Queen of Instruments" and wants a broad public to perceive organ also as a normal concert instrument in concert halls and philharmonies.As Naji Hakim says: " A noble popular intention is in the heart of this admirable and most respectable artist of the organ scene." (The Gramophone, March 2005).

Iveta Apkalna is awarded the "ECHO" for her latest CD with the title "Himmel & Hoelle" (Edition Hera, HER2117), recorded on the Rieger-organ of St. Martin´s church in Wangen/Allgau, Germany.

The awarding will be live-broadcast on German TV channel "ZDF", October 16th, 2005.

More Info:
Winners of the ECHO award (in German)

Lukas Pollack, Germany,
concert management and public relations Iveta Apkalna
lpollack@gmx.net
---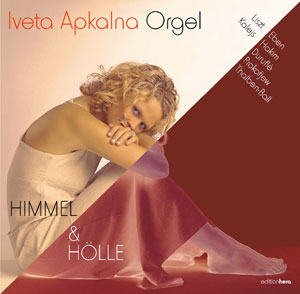 Samples (MP3):
Seventy-two minutes of sacred & sorcery pieces are presented on Iveta Apkalna's latest CD "Himmel und Hölle" (Heaven & Hell) produced by the German label "Edition Hera", recorded on the splendid German/French romantic Rieger organ of St. Martin's church in Wangen/Allgäu (Germany) from 1987. This production is marking due to the outstanding quality of the performing artist and due to the exceptional capacity of its sound engineer and producer Ralph Kulling a fixed star in the universe of organ CDs. Iveta Apkalna presents pieces that have hardly or never been performed (3 world premier recordings) displaying and mastering a repertoire on this CD in total which is setting a new scale for performers on the "Queen of Instruments" worldwide.Two of the most tricky and demanding pieces in organ literature, Reger's transcription of Liszt's second piano legend "St. Francis of Paula walking on the waves" and Sergej Prokfjew's legendary "Toccata op. 11" transcribed by Jean Guillou are included and realized by Apkalna with stunning skill. Even more astounding and breathtaking are the Latvian star-organist's interpretations of two mere pedal pieces, Hakim's "Quatre Etudes-Caprices" and Thalben-Ball's "Variations on a theme of Paganini". As a consequence of this, one of Germany's most observed printed publications in classical music, the "Klassikmagazin Crescendo" did not hesitate to draw public attention towards the organ's most remarkable shooting star in ages by making Iveta Apkalna the cover-story of their actual December/Christmas issue.
Iveta's CDs are distributed in the US by
Albany Music Distributors
915 Broadway
Albany, NY 12207
tel: 518-436-8814
fax: 518-436-0643
and can be purchased here:
ArkivMusic LLC – The Source for Classical Recordings
360 W 55 ST
New York NY 10019
212 586 1504
518 692 1133
Lukas Pollack, Germany,
concert management and public relations Iveta Apkalna
lpollack@gmx.net
---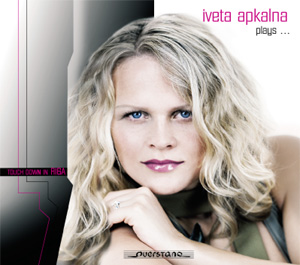 One of Latvia's at present most acclaimed artists abroad, concert organist Iveta Apkalna has returned home to Riga after a four month concert tour leading her through festivals in Austria, Switzerland, Germany, Luxembourg and Finland. Having been one of the top festival highlights during the renowned Handelfestival in Halle/Saale (Germany) with thousands of listeners in her concerts there the Latvian Music Award winnner will now perform "at home" again on July 21st at 13.00 in the Saviour's church and on July 23rd at 19.00 in St. John's church, Riga.Iveta's 2nd CD, "Touch down in Riga", recorded last autumn in Riga Dom Cathedral, will be first time available in Latvia on the occasion of these concerts. The album was produced by the German label Querstand and officially released in Germany on June 11th following a TV profile about Iveta Apkalna shown in Germany's most viewed cultural TV magazine "Titel, Thesen, Temperamente" which is produced and broadcast by the TV-channel "ARD".Back to Germany in September, Iveta Apkalna will take part in the opening of the concert season of theKonzerthaus Dortmund on September 25th. The opening event will be a spectacular organ night including celebrity concert organists like Barbara Dennerlein and Simon Preston beside Latvia's organ star.Lukas Pollack, Germany,
concert management and public relations Iveta Apkalna
lpollack@gmx.net
---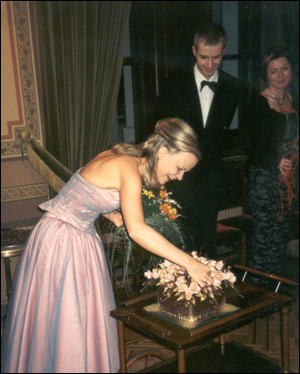 Iveta Apkalna, concert organist from Riga (Latvia), was the winner of the public award, installed in 2004 for the first time by the Latvian Ministery of Culture in connection with the Grand Latvian Music Award ceremony which is annually held in Riga Opera House since 1993. Internet users from all over the world were asked to vote online for their favourite among the eight award recipients this year (conductor, choir leader, composer, primaballerina, tenor, musicologist, chamber music ensemble, organist). Main sponsor of this public prize was Latvia's most exclusive chocolate manufacturer Emil Gustavs who presented Iveta Apkalna a huge, artistic chocolate creation over and over decorated with marzipan roses weighing ca. 6 kg and having a value of roundabout 250 US$.Lukas Pollack, Germany,
concert management and public relations Iveta Apkalna
lpollack@gmx.net
---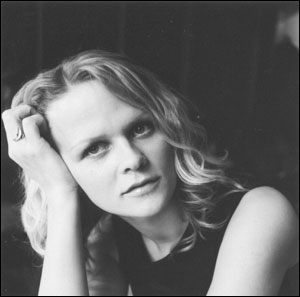 A Grand Latvian Music Award goes to the Latvian concert organist IVETA APKALNA due to special merits in the field of music.It is only for the second time in the long tradition of this prize (award holders a.o. Gidon Kremer, Mariss Jansons, Peteris Vasks, Baiba Skride, etc.) that the instrument organ is being considered in this awarding. Iveta will be honoured during the award ceremony held in Riga Opera House on March 5th 2004.Previously, in September 2003, Iveta was the winner of the 3rd International Mikael Tariverdiev Organ Competition in Kaliningrad (patron Vladimir Putin) placed by the Russian media on one stage with the prestigious Tchaikovski-competitions in Moscow.Moreover, Iveta is Bach-prize holder of the "Royal Bank Calgary International Organ Competition" (musical director Simon Preston) and winner of its European selection round held in St. John's, London, 2002.

Iveta's first CD was issued in September 2003 by the German label Edition HERA, a live-recording from a concert in the "Stuttgarter Johanneskirche" (Germany) with works of Liszt, Vasks, Bach, Hakim and Glass. Her second CD will be released in May 2004 by the label "Querstand", Germany, (Deutscher Schallplattenpreis 2003), recorded on the legendary Walcker-organ of Riga Dome Cathedral with works of Reger (2), Vasks and Hakim.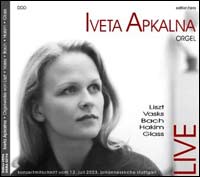 In 2004 Iveta will perform a.o. as a concert soloist in the International Bodenseefestival (May) and the renowned (since 1922) Handel-festival in Halle/Saale (June) and she will give a solo recital on the famous Ladegast-organ of Merseburg Dome, Germany, straight after its refurbishment in October 2004.
Lukas Pollack, Germany,
concert management and public relations Iveta Apkalna
lpollack@gmx.net