The First Israeli Organ Festival will take place simultaneously in Tel-Aviv, Haifa and Jerusalem between the 17th and the 20th of November 2003.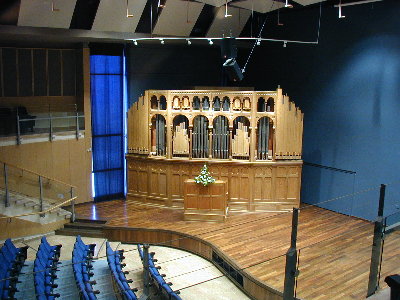 The First Israeli Organ Festival is organised by the
Israel Organ Society.
22 Itshar Street,
Jerusalem, Israel
In Tel-Aviv the Festival will be held at the Clairmont Recital Hall in the Tel-Aviv University campus. The 39 stops, three keyboard organ was built in 2002 by the German organ builder Hermann Eule.
In Haifa: in the Hecht Museum Auditorium of the Haifa University. The organ was built in 1998 by the Israeli organ-builder, Gideon Shamir. It has 32 stops, and two keyboards.
In Jerusalem: at the Brigham Young University Center for Middle-Eastern Studies on Mount Scopus. The organ is 1983 Marcussen with three keyboards and 38 stops.
The program is composed of 18 two-hour-long organ concerts. It covers most of the classical repertoire and several modern pieces which will be heard in Israel for the first time.
The organists taking part of this event are:
Francois Espinasse, titular of Saint-Severin church in Paris
Vincent Warnier, titular of Saint-Etienne du Mont church in Paris
Sabin Levi, organ-player and composer, residing currently in the USA
Istvan Ella, well-knowned Hungarian organ player from Budapest
Elisabeth Roloff, German organist residing in Jerusalem
Roman Krasnovsky, organ-player and composer residing in Israel
Yuval Rabin, organ-player and composer residing currently in Switzerland.
More Information:
Sabin Levi, sabin*XNOSPAMX*mail.ku.edu (replace *XNOSPAM* with @ to send mail)
The Israeli Organists' and Organ lovers' Club