During the year 1999 and on into the beginning of the new century, the question about the future of the pipe organ was the subject of lively discussions at various organ gatherings throughout Europe, as well as the United States. Probably the turn of the century provided the right occasion for bringing up this debate. I was invited to speak at one of these events in Switzerland, along with 3 other well- known organ-builders.
When I prepared for this occasion I realized that there is really no clear answer to the question. Then, after listening to the statements by my colleagues, my assumption was confirmed. One can say that a little of everything is being built these days: from style copies to historical imitations, to contemporary design. Furthermore, all systems, such as mechanical, electric, pneumatic or others are being used. All different musical styles from French, to German or baroque are evident. Obviously, each of these different types of organ has its admirers; otherwise there would be no demand for them.
Our concern is that not enough wholly contemporary organs are being built these days. Where is the creativity for organ cases of stunning contemporary design? Such designs are not easy to realize, for it is in fact very difficult to fit an organ into the various styles of architecture organ-builders are confronted with.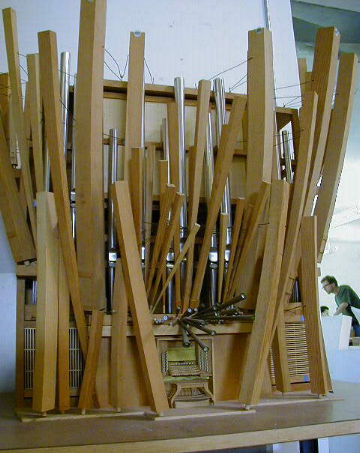 Since most of us have been trained as organ-builders and not as designers or architects, this creates a problem in the profession, but one with a relatively simple solution. Why not use the professionals who do indeed have the required knowledge about architecture and style as well as the skills needed to carry out good design? The organ-builder can supply the architect or designer with the parameters he has to consider. We have been doing this for several years now and are very pleased with the results of this co-operation. Of course, organs do not have to look like the Walt Disney Concert Organ designed by Frank O. Gehry in order to be labeled contemporary. There are unlimited possibilities for designs and detail. Although we are a relatively young company, we do have a few interesting examples of contemporary organ design to show. You are welcome to look at our web-site. ( http://www.gg-organs.com )
We are also attempting to spark interest in sculpture- like organs for public buildings or other large spaces. Such instruments could be used as decorative eye-catchers, but still serve the more conventional function of an organ – mainly to make music. Many people do not realize that an organ does not only play Bach or accompany weddings, funerals and the like, but can also be used for jazz or other forms of more contemporary music.
Pipe-organs are usually associated with church by the majority of people, but there is a welcome trend these days to put organs into new concert halls and conservatories. I just wish they would be more visually spectacular. But I think there is hope that in the future more interesting looking and beautifully sounding organs will be built !
picture of the Disney Hall organ taken from Glatter-Götz website. Organ design by Frank O. Gehry.
© 2000 Caspar von Glatter-Götz