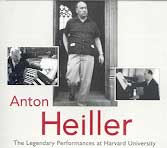 Download the entire Heiller at Harvard CD Booklet (PDF)
Read student reminiscences by George Klump, Franklin E. Perkins, Marian Ruhl Metson, Yuko Hayashi, Stephen Roberts and Christa Rakich
— Text and Photo courtesy David Moran —
The Producers
Josiah Fisk has written about classical music for the Boston Herald, Musical America and the Hudson Review, and is the editor of Composers on Music: Eight Centuries of Writings (Northeastern University Press 1997). He has worked as an organ builder with John Brombaugh and with his father, Charles Fisk.
David Moran has written about classical music for publications ranging from the Boston Globe, Phoenix and Herald to Stereo Review, and has particular interest in Bach keyboard music and Anton Heiller.
---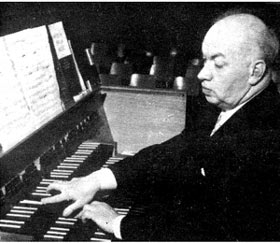 Anton Heiller was born on 15 September 1923, in Vienna, Austria, and died there on 25 March 1979. At the Hochschule für Musik und darstellende Kunst, he studied piano, harpsichord, organ and composition, receiving his diploma in 1942. After the war Heiller taught organ in the school's Church Music department, and in 1952 took second prize at the famed improvisation contest in Haarlem, Holland.
Over the following decade, Heiller became highly regarded for his concert performances, especially of Bach. He began making records as well. By the early '60s, Heiller's reputation as a teacher drew students from around the world, and he also began occasional touring (photo: at Harvard, 1971). To a remarkable degree, he remained an all-around musician, notably accomplished as harpsichordist and pianist, and esteemed as a conductor. Furthermore, Anton Heiller composed throughout his career, in a rich polyphonic and chromatic idiom — more consonances in conflict and then resolution than the pronounced dissonances of strict serial procedures. Often with a Gregorian flavor, his music keeps company with that of his close friend and mentor Paul Hindemith, along with J.N. David and Frank Martin. One critic has noted that in it there is something reserved: the composing may not have world-shaking ambition, but those ambitions it has it fulfills with a quite satisfying completeness. — DM
---
Student reminiscences